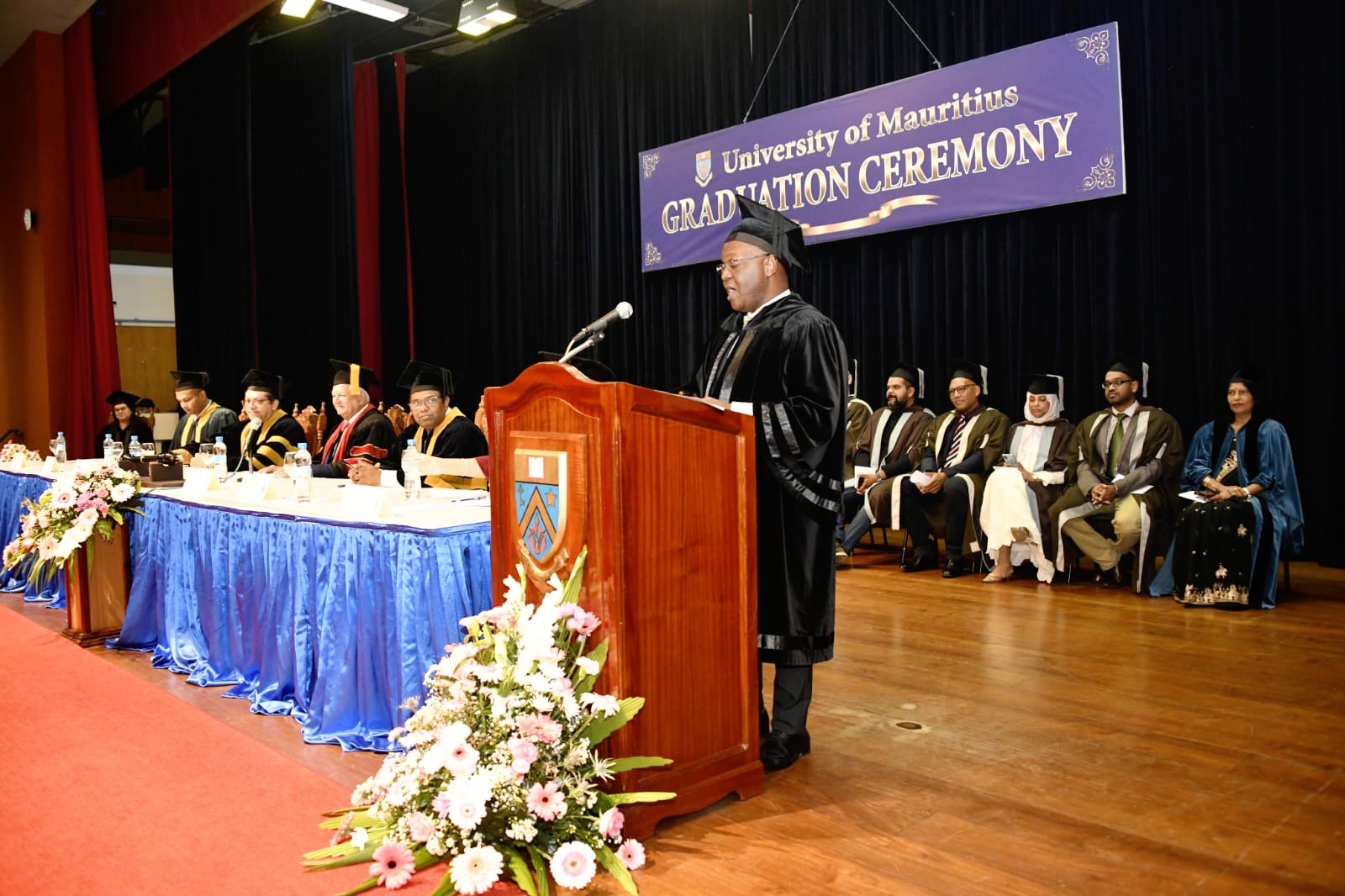 Emotion et fierté pour plus de 2000 nouveaux diplômés de l'Université de Maurice (UoM) qui étaient mis à l'honneur lors de la traditionnelle cérémonie de remise des diplômes de la promotion 2021/2022 qui a eu lieu du 16 août au 5 septembre 2023 à l'auditorium Paul Octave Wiéhé de Réduit. Vêtus de leur toge d'apparat et de leur chapeau, et entourés de leur famille et de l'équipe enseignante et non-enseignante, les étudiants des sept facultés et du Centre for Innovative and Lifelong Learning de l'UoM, du Mahatma Gandhi Institute et du SSR Medical College de Belle Rive ont été conférés le diplôme universitaire par le Chancelier de l'UoM. Parmi les diplômés, on compte plus d'une centaine d'étudiants de master et sept nouveaux détenteurs d'un doctorat, le plus haut diplôme universitaire reconnu internationalement.
Moment émouvant et tant attendu des étudiants de l'UoM, cette cérémonie célèbre leur réussite après leurs efforts et leur implication pendant leurs années d'étude à l'UoM. Pour les 1900+ étudiants de licence, elle concrétise également la fin d'une période - la vie d'étudiant - et le début d'une autre - la vie de jeune professionnel. Lors de son allocution, le Vice-Chancelier de l'UoM, Professeur Sanjeev Sobhee, a félicité les jeunes diplômés de leur succès, tout en ajoutant qu'il y a encore certaines valeurs clés, en sus des connaissances et compétences nécessaires acquises lors de l'apprentissage universitaire, qu'ils doivent exploiter pour devenir un employé créatif et productif face aux nouveaux défis qui les attendent dans le monde du travail. « C'est votre capacité à vous adapter et à faire preuve d'empathie à l'égard des autres qui changera la donne. » précise-t-il. Il a également souligné l'importance d'adopter une culture de l'apprentissage tout au long de la vie pour être plus résilient dans un monde devenu très volatile et incertain.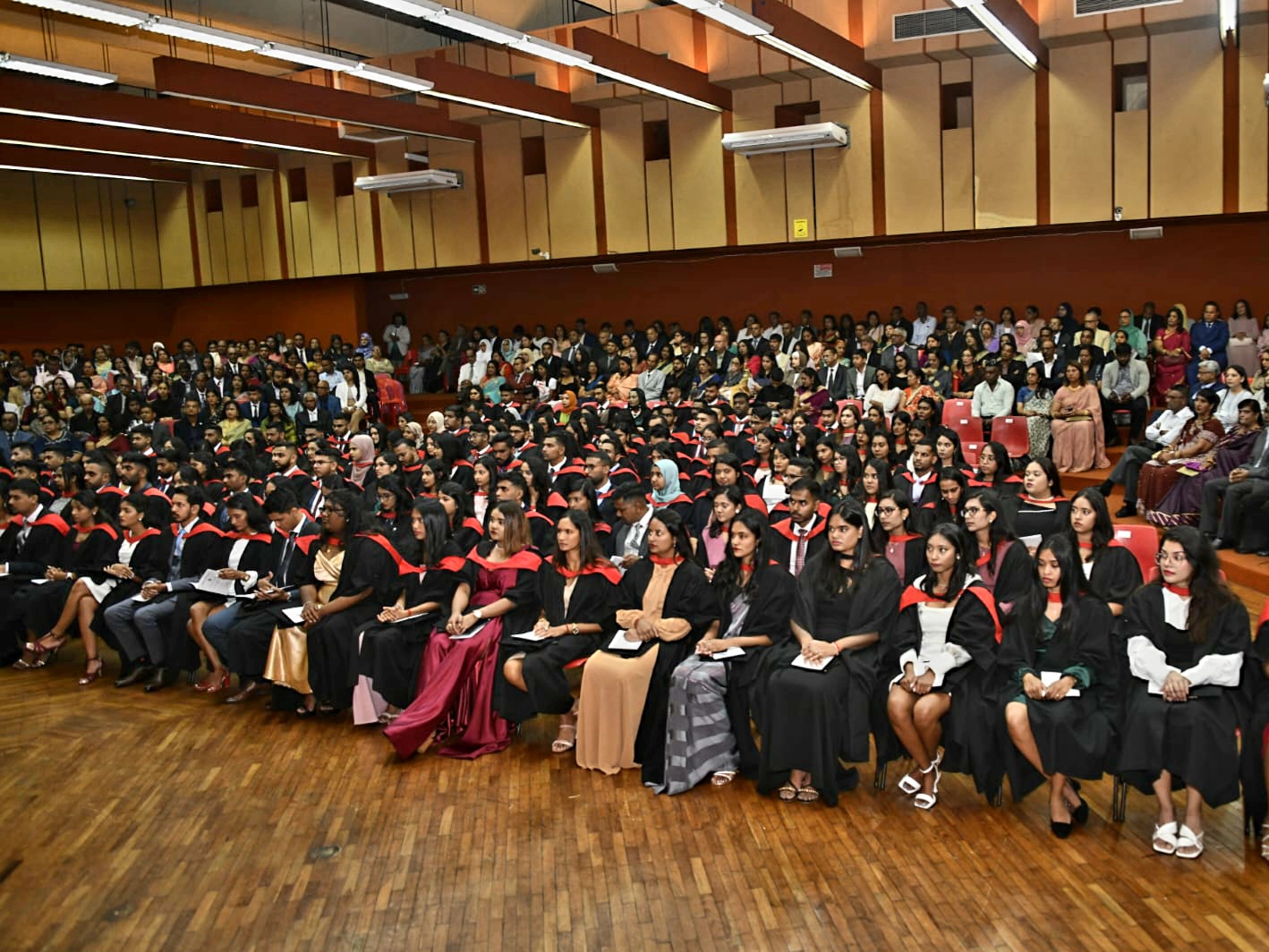 Comme à l'accoutumée, pour marquer cet événement, plusieurs personnalités de différents secteurs ont été invités à prendre la parole lors des différentes séances dont, Dr Ramdenee et Mme Sauzier, Secrétaire Général du Mauritius Chamber of Commerce and Industry et du Mauritius Chamber of Agriculture respectivement ; Mons. Poligadu, CEO d'iQera; Mme Jugessur, Directrice générale d'Accenture; Mons. Kui Zheng, CEO de Huawei Technologies (Mauritius) Co. Ltd; Mons. Jhummun, CEO de Mauritius Finance; Me Louis Richard Toulouse, avocat; Mme Ramnauth, Directrice de la Bibliothèque Nationale; Dr Issack, Directeur adjoint par intérim du Lab Services au Central Health Laboratory à l'hôpital Victoria ; Dr (Mme) Aujayeb, Présidente du President's Fund for Creative Writing au Ministère des Arts et du Patrimoine Culturel; le Père Philippe Goupille, Président du Conseil des Religions et Mons. Coquet, Directeur général de l'Imprimerie et Papeterie Commerciale Ltée. L'ensemble des intervenants ont félicité les nouveaux diplômés et ont tous prononcé un discours inspirant aux jeunes diplômés pour les encourager dans leur future carrière professionnelle.
L'UoM compte, à ce jour, plus de 72,000 diplômés depuis sa création. Tout en travaillant en étroite collaboration avec l'industrie, elle continue à innover et offre des programmes d'études dans divers domaines, incluant dans les secteurs nouveaux et émergents, pour répondre aux besoins du marché du travail. Des stages en entreprise ont été intégrés dans le cursus universitaire pour accroître les compétences de ses diplômés.
L'Université de Maurice est la seule université de l'île à figurer dans le prestigieux classement mondial des universités 2023 du Times Higher Education (THE). Elle a ensuite été classée 19e dans le THE Sub-Saharan Africa University Rankings 2023 et classée 1001+ dans le THE Impact Rankings 2023. Ces classements du THE renforcent la réputation et la visibilité de l'UoM et du pays comme une destination privilégiée de l'enseignement supérieur.